CHOOSING GOOD CHILDREN'S BOOKS
WHAT SHOULD OUR CHILDREN BE READING?
Early Chapter Books - Early chapter books are simple, short, illustrated fiction. They are written and designed to help new build their reading stamina and mileage.
Fantasy Books for Children - research indicates that fantasy fiction and fantasy play can benefit kids. Engaging with fantasy can stimulate creativity and boost vocabulary.
Mystery Books for Children - A story that involves a mystery, puzzle or riddle also provides encouragement to children, as if to say, "no one has all the answers, but if we use our heads and think, we can figure this thing out."
Fairies, Mermaids, Unicorns & Princesses - Fairy tales, oral stories, folk tales, and other myths and legends have been shared orally to help children develop self-understanding and mature into well-rounded human beings since ancient times. In modern times, read-aloud fairy tales can instill a love of reading, improve vocabulary, develop creative thinking, increase intelligence, and more!
Cars & Trucks & Boats & Train Books - Children of all ages love things that go beep, choo-choo, vroom and zoom and at the same time learn about transportation.
Which Books for Which Ages?

Picture Books are great for reading aloud to babies, toddlers, and preschoolers; and are often good for the 'just-learning-to-read' set as well. The high-quality writing and illustrations make Picture Books enjoyable for older children and adults, too.

Easy Readers are short 'just-learning-to-read' books with simple text and illustrations. Some are really easy, some are less so. Good stories in and of themselves, they also serve as 'stepping stones' to longer chapter books.

"Early Chapter Books" fit right inbetween those Easy books and J Fiction. We have a good illustrated booklist of Early Chapter books at our library.

"J" Fiction is what the kids call 'chapter books.' With little or no illustrations, these are the longer 'I can finally read a real book' books.

"YA" Young Adult Fiction are for most teenagers and some pre-teens. While they often feature teen characters (and sometimes feature mature/explicit content and language) the best of them are strongly written and are an important means of keeping the reading habit going on into adulthood.

---
​Choosing "Best Books" for Children and Teens:

The Children's Book Council http://www.cbcbooks.org/
Horn Book -- Family Reading https://www.hbook.com/welcome-to-family-reading/
The Children's Book Review
GoodReads
Association for Library Service to Children
Time Magazine
The 100 Best Children's Books of All Time
http://time.com/100-best-childrens-books/
The 100 Best Young Adult Books of All Time
http://time.com/100-best-young-adult-books/
NPR's 100 Best-Ever Teen Novels
http://www.listchallenges.com/npr-100-best-ever-teen-novels

New York Times Book Review --
Children's Picture Books, Middle Grade Books, Middle Grade Series and Young Adult Books Lists: https://www.nytimes.com/books/best-sellers/?_r=0

---
Websites & Apps: StoryBooks Online:

Storyline Online http://www.storylineonline.net/ Kids stories read by actors.



---
Not Just For Kids:

19 Children's Books You Should Re-read as an Adult

http://www.businessinsider.com/childrens-books-adults-should-read-2016-4

33 Children's Books Literally Everyone Should Read

https://www.buzzfeed.com/jennaguillaume/kids-books-adults-can-enjoy?utm_term=.dtmJz4oE3#.mqeLVNlWx


---
Do you know of other good resources about children's literature?
Please let us know!
---
GRANDPARENTS:
Visit Us! We like nothing better than to see grandparents and grandchildren enjoying our Children's Room and Makerspace together; and we're more than happy to talk with you about good children's books!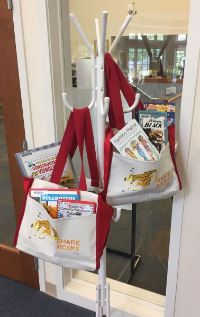 Are your grandkids coming to visit? Are you traveling to visit them?

GrandKits: Contact us, tell us about your grandkids, and we'll gather up a selection of books and media (DVDs, Books on CD, plus perhaps even a puzzle, game or STEM kit) put them in a GrandKits bookbag, and have the bag ready for you to borrow.

​Museum Passes: Plan ahead and book passes to local museums.

Visit us! Before your grandkids visit, schedule a time to learn how to put some good children's apps on your tablet or smartphone.

---