Glass over Teakettle
with Monica & Candace Collier
Exhibit on main level in Shtterbug Gallery and Bownes Cape Cod Room through December.
Where can you encounter a three-foot jellyfish, a sparkling mermaid, a human heart, and vases of flowers that will never fade? These intricate works of art, all made with hand-cut stained glass, are currently gracing the halls of the Osterville Village Library. Local artists Monica Collier and Candace Collier of Marstons Mills, are reinventing the ancient art of stained glass in their home studio. Under their business name, "Glass Over Teakettle", the Colliers have been making a name for themselves with their modern stained glass creations appearing in local homes and businesses. One notable piece is the eight-square-foot sign at Snowy Owl Coffee in Sandwich, made completely with hand-cut stained glass. All of their designs start with an original pattern that they draw and therefore each piece of art is unique.
The current exhibit, entitled "Stained Glass Reimagined", features 24 works of art in their first solo art show on Cape Cod. The exhibit runs now through December 31 with each one-of-a-kind piece available for purchase. A percentage of each sale will benefit the Osterville Village Library. Mark your calendars for Saturday, October 22 from 2:00 - 3:30 PM at OVL, and enjoy an opening reception and a meet and greet with the artists.
Monica Collier and Candace Collier are the innovative artists of "Glass Over Teakettle", where they create modern stained-glass art. From their studio on Cape Cod, they transform hand-cut glass into unique windows, sculptures, and epic wall installations in businesses and custom homes.
---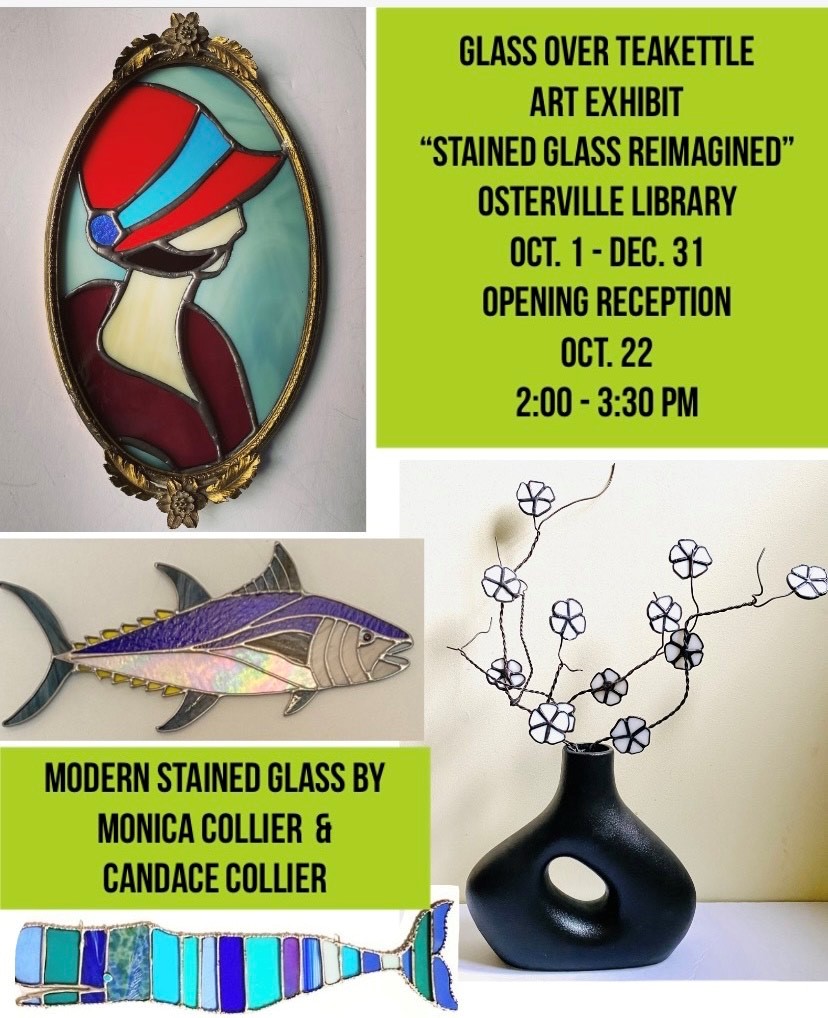 ---