Book Store Hours
| | | | | |
| --- | --- | --- | --- | --- |
| Monday | 12:00 noon | 3:00 pm | | |
| Tuesday | 12:00 noon | 3:00 pm | | |
| Wednesday | 12:00 noon | 3:00 pm | | |
| Thursday | 12:00 noon | 3:00 pm | | |
| Friday | 12:00 noon | 3:00 pm | | |
| Saturday | 10:00 am | 1:00 pm | | |
---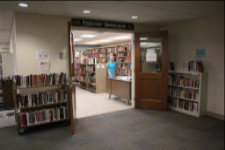 Donations
Donations are the back bone of our business!
The Friends Book Sale greatly appreciates your donations and we thank you for thinking of us!
We are able to accept small donations at any time during the Osterville Village Library's normal hours of operation. For big donations, please call ahead to schedule an appointment to drop off your donation.
Fiction and non-fiction books must be in good condition whether hardcover or paperback are welcome additions to the Friends supply of sale items. We are also grateful for any useable CDS, audiobooks and DVDs.
We are unable to accept donations of musty books or books with torn pages, broken spines or markings in the text. We are also unable to accept textbooks, encyclopedias, records, VHS tapes or audio tapes.
Please bring help if you are bringing in heavy boxes.
Thank you for your consideration.
---
Books Valued for Insurance Purposes
Friends member and Book Dealer, Mr. David Yount is available to help you evaluate your books for personal or tax purposes.
Need a letter for tax purposes?  Please call on Wednesdays from 12 Noon - 3 PM to make an appointment with David at 508-428-5757.