Advertizing Opportunities for the 2016 Experience Osterville Guide Are Now Available!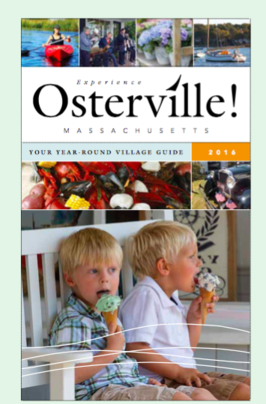 This unique, effective marketing opportunity is being offered once again by the Osterville Village Library. Thanks to our advertisers we've raised more than $35,000 in net proceeds for the Library since the launch of the guide two years ago. The guide continues to fly off the shelves at the Library, and at all of our retail, restaurant, hospitality and busi- ness partners who provide the guide free of charge for their customers.
Experience Osterville (EO) is distributed via village retail, hospitality, real estate and other service businesses and nonprofits, as well as the Wianno Club and regional hotels from Falmouth to Chatham. It has even become a popular gift item for Osterville's brides and grooms to provide for their guests.
The 2015 guide will be even bigger and better!  Experience Osterville is geared not just toward visitors, but toward Osterville's highly desirable 3,600 plus year - round and seasonal residents, as well as its Cape Cod neighboring communities, targeting an audience exceeding 30,000 readers. The EO is also available online at www.experienceosterville.com. Participating business receive a featured spot on the Osterville Village Library's website (www.ostervillevillagelibrary.org), which includes a link to the company's website! 
Please share this amazing advertising opportunity with your favorite local business!  Publishing in May 2015, EO will serve as a year round guide containing informative articles and information about Osterville events planned through early spring 2016. Contact us now to reserve space and get the best placement in Experience Osterville 2015! All net proceeds from the advertising sales of this guide will benefit the Osterville Village Library.  For more information, visit www.experienceosterville.com or email or call our account executive, Lisa, today:lisa@experienceosterville.com or 508.428.8280 for more information and to reserve your space.