---
Summer Smallfry Storytime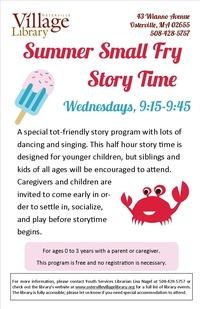 Wednesdays, 9:15-9:45
A special tot-friendly story program with lots of dancing and singing. This half-hour story time is designed for younger children, but siblings and kids of all ages will be encouraged to attend. Caregivers and children are invited to come early in order to settle in, socialize, and play before storytime begins.
---
Summer Big Kid Storytime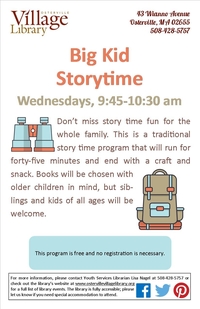 Wednesdays, 9:45-10:30
Don't miss story time fun for the whole family. This is a traditional story time program that will run for forty-five minutes and end with a craft and snack.Geared towards kids ages 4-6 but all ages welcome.