What Do We Have For You?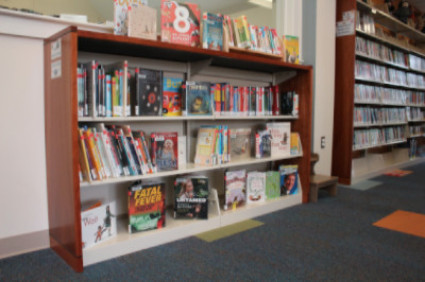 The Children's Room is filled with items — books, DVDs, CDs, and audiobooks — selected especially for children up to the age of 11. (The Teen Area is geared towards ages 12 to 18.)
Children's Collections
Picture Books

Illustrated stories that can be read aloud. These span a wide age range, 0-11 years. We also have a large selection of Board Books.

Easy Readers

Stories for those just beginning to read, usually kindergarten through grade 2.

Fiction

Chapter books of varying levels, good for children in grades 2 to 5.

Graphic Novels

Longer stories told in comic book format.

Magazines

Our current subscriptions include American Girl, National Geographic Kids, Sports Illustrated Kids, Highlights, Kids Discover, and Family Fun.

Parent & Teacher Materials

Nonfiction

Informational books organized by subject.

Biographies

Books and memoirs about real people. These are considered nonfiction, and are shelved by the last name of the person they are about.

DVDs, Music CDs, and Audiobooks on CD

New

Fiction, Easy Readers, Graphic Novels, Nonfiction, and DVDs/CDs/Audiobooks are kept on a separate shelf, just inside the door to the Children's Room. New Picture Books are displayed on top of the Picture Book shelves. New items are those that have been purchased within the last six months.